Understanding Cultural Landscapes Symposium (On Zoom)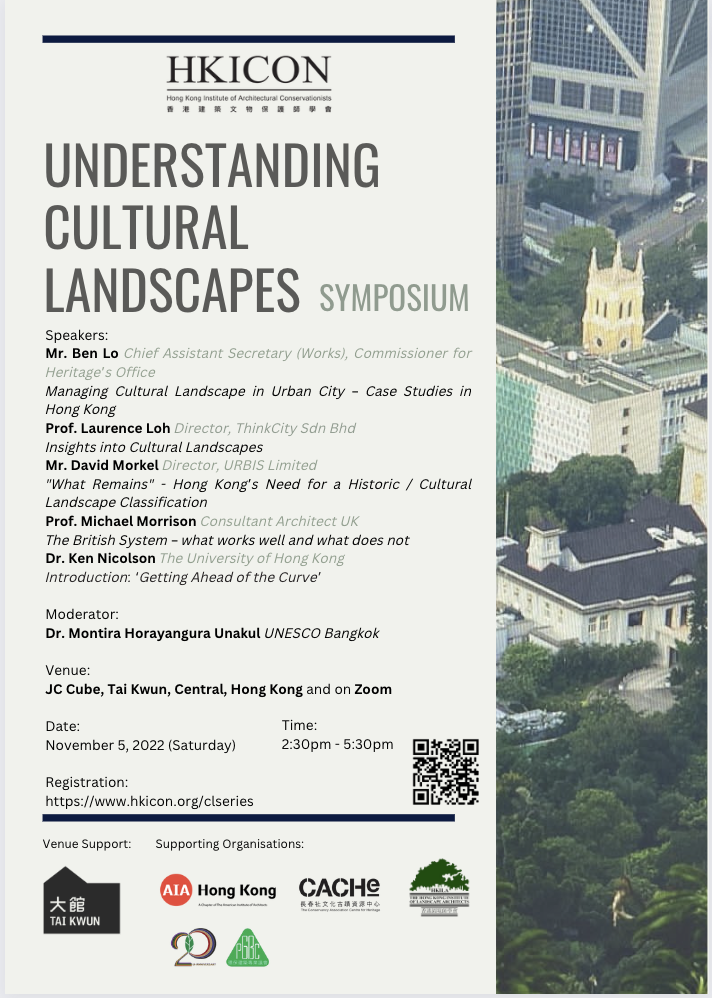 Event Location:
JC Cube Tai Kwun Hong Kong
CPD Event:
Understanding Cultural Landscapes  – Symposium on Zoom
Date:
5 November 2022 (Saturday)
Time:
2:30pm – 5:30pm
Speakers:

Mr. Ben Lo  Chief Assistant Secretary (Works), Commissioner for Heritage's Office

Prof. Laurence Loh Director, ThinkCity Sdn Bhd

Mr. David Morkel Director, URBIS Limited

Prof. Michael Morrison Consultant Architect UK

Dr. Ken Nicolson The University of Hong Kong

Moderator:

Dr. Montira Horayangura Unakul UNESCO Bangkok

Venue:
JC Cube, Tai Kwun, 10 Hollywood Road, Central, Hong Kong

and on Zoom

CPD Points:
3 CPD hours
Language:
English
Venue Support:

Tai Kwun – Centre for Heritage and Arts
Supporting Organisations:

The American Institute of Architects Hong Kong

The Conservancy Association Centre for Heritage

The Hong Kong Institute of Landscape Architects

Professional Green Building Council

Fee:
Free admission

(Limited to 300 participants on Zoom. Please register for a ticket.)
About the Speakers
Mr. Ben Lo is Chief Assistant Secretary (Works), Commissioner for Heritage's Office, Development Bureau. He graduated from the University of Hong Kong in Civil and Structural Engineering in 1990. He obtained a Master of Science Degree in Architectural Conservation in the University of Hong Kong in 2010. He is a chartered civil engineer and an architectural conservationist. Mr. LoBen joined the HKSAR Government in 1990 upon graduation and has worked in the Highways Department and Water Supplies Department responsible for overseeing construction projects and design offices. He joined the Commissioner for Heritage's Office in 2020 and overseeing a number of revitalisation projects of historic buildings in Hong Kong.
Professor Laurence Loh, an architect by profession, is an Honorary Fellow of HKICON and has been an active supporter of Hong Kong's conservation endeavours for over 25 years. To acknowledge his teaching contributions as an annual lecturer in the ACP Heritage Management Course and the expertise and in-depth knowledge he continues to share, HKU has honoured him with an Adjunct Professorship. He has acted from time to time as an advisor to the Urban Renewal Authority, the Antiquities and Monuments Board and other interest groups in Hong Kong.
Further afield, he is presently collaborating with the Getty Conservation Institute on an urban conservation planning course for ASEAN countries, with UNESCO to develop and deepen its outreach through new programmes and its UNESCO Asia-Pacific Cultural Heritage Awards and the World Heritage Centre through ICOMOS on site evaluations and technical reviews.
He is a recipient of the 2019 PAM Gold Medal Award for his life-long contribution to the advancement of architecture in Malaysia and several UNESCO Asia-Pacific Cultural Heritage Awards.
Mr. David Morkel (CMLI MRTPI MHKIP MHKIUD RPP MHKIEIA) is a professional Landscape Architect and Town Planner and a Director of the landscape and planning consultancy, URBIS Limited. He has over 28 years of professional experience working in the UK, Hong Kong, the Middle East and China. Over that time, David has developed a particular interest in, and gained experience of, the assessment and management of historic and cultural landscapes in both the UK and Hong Kong.
Professor Michael Morrison  is a conservation architect previously managing partner and chairman of the leading architectural conservation consultancies Purcell. Now semi-retired after fifty years in the business and acting as a consultant to the firm. Michael has been on the Architects advisory Panel for the National Trust and a Commissioner for Historic England. Over the years he has been responsible for the repair, adaptation and conservation of some of England's most significant historic buildings which have been set in highly significant designed landscapes. Michael opened Purcell's Office in Hong Kong in 2009 and was responsible for the project at Tai Kwun for the Hong Kong Jockey Club.
Dr. Ken Nicolson is an architectural conservationist, landscape architect, and urban planner. A practitioner with almost 40 years of experience, he has been teaching in HKU's Division of Architectural Conservation Programmes since 2002 and is credited with introducing the concept of cultural landscape to Hong Kong. His three books on the topic are considered essential readings for local scholars and students of cultural landscapes. Throughout his academic and professional career, he has won many awards, including the 2006 UNESCO Asia-Pacific Awards for Cultural Heritage Conservation.
About the Moderator
Dr. Montira Horayangura Unakul Montira is a heritage advocate trained in architecture, urban planning and economics. at Harvard University, the University of California, Berkeley and Chulalongkorn University.  She works at UNESCO Bangkok and serves as an advisor to SEAMEO-SPAFA, the Siamese Heritage Trust, and the Thai National Sub-Committee on Cultural World Heritage. She has developed capacity building programmes such as reviving traditional knowledge for conserving built heritage, sustainable heritage tourism and collections
management.